Blind Flanges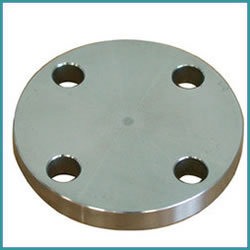 Blind Flanges
Product Description
Our firm is affianced in exporting and supplying a broad range of Blind Flanges to our valued clients. These flanges are commonly used in sugar, paper, paint, fertilizer, pharmaceutical and oil industries for closing the end of a pipe. In order to manufacture these flanges, our vendors adroit professionals use top quality raw materials and contemporary techniques. Apart from this, our valued clients' can purchase these Blind Flanges in different specifications at industry leading prices.
Features:
Resistant to rust
Uniform thickness
Great durability
Supreme finish
Technical Specifications:

Manufacturers of Alloy Steel Blind Flanges, ASTM A182, A240 Stainless Steel Blind Flanges, Inconel Blind Flanges, Duplex Blind Flanges, Carbon Steel Blind Flanges, Monel Blind Flanges. The other kinds include Monel 400 Blind Flanges, Inconel 600 Blind Flanges, Titanium Gr 5 Blind Flanges, Hastelloy C276 Blind Flanges, ANSI Blind Flanges and Incoloy 825 Blind Flanges.

Heaven Tube & Pipe Fittings precisely designs, engineers and develops a variety of Blind flanges, making use of high quality raw material. The design of this flange is a round plate with no center hold, but all proper bolt holes. This kind of flange is developed in a number of shapes, grades, sizes and specifications, so as to meet the requirement of every customer. The blind flanges are utilized in many industries, for instance, pipe engineering, petrochemical, water works and public services.

Stainless Steel Blind Flanges
Material of Construction

Standard

Grades

Stainless Steel Blind Flanges

ASTM A182 , A240

F 304, 304L, 304H, 316, 316Ti, 316H,
316L, 316LN, 309S, 309H,
310S, 310H,317, 317L
321, 321H, 347, 347H, 201, 202, 904L
Alloy Steel Blind Flanges
| | | |
| --- | --- | --- |
| Material of Construction | Standard | Grades |
| Alloy Steel Blind Flanges | ASTM A182 | F1,F5,F9,F11,F22,F91 |
Carbon Steel Blind Flanges
| | | |
| --- | --- | --- |
| Material of Construction | Standard | Grades |
| Carbon Steel Blind Flanges | ASTM A105 | Gr. F42,46,52,56,60,65,70 |
| Low Temperature Carbon Steel Blind Flanges | ASTM A350 | LF2 , LF3 |
Inconel Blind Flanges
Material of Construction

Standard

Grades

Inconel Blind Flanges

ASTM SB564,
SB160, SB472, SB162

Inconel 800 (UNS No. N08800), Inconel 825 (UNS No. N08825), Inconel 600 (UNS No. N06600), Inconel 625 (UNS No. N06625), Inconel 601 (UNS No. N06601)
Monel Blind Flanges
| | | |
| --- | --- | --- |
| Material of Construction | Standard | Grades |
| Monel Blind Flanges | ASTM SB564, SB160, SB472, SB162 | Monel 400 (UNS No. N04400), Monel 500 (UNS No. N05500) |
Duplex Blind Flanges
| | | |
| --- | --- | --- |
| Material of Construction | Standard | Grades |
| Duplex Blind Flanges | ASTM A182, A240 | UNS F 44, F 45, F51, F 53, F 55, F 60, F 61 |
Hastelloy Blind Flanges
| | | |
| --- | --- | --- |
| Material of Construction | Standard | Grades |
| Hastelloy Blind Flanges | ASTM SB564, SB160, SB472, SB162 | Hastelloy C 276 (UNS No. N10276), Alloy 20 (UNS No. N08020) |
Nickel Alloy Blind Flanges
| | | |
| --- | --- | --- |
| Material of Construction | Standard | Grades |
| Nickel Alloy Blind Flanges | ASTM SB564, SB160, SB472, SB162 | Nickel 200 (UNS No. N02200), Nickel 201 (UNS No. N02201) |
Copper Alloys Blind Flanges
| | | |
| --- | --- | --- |
| Material of Construction | Standard | Grades |
| Copper Alloys Blind Flanges | ASTM SB 61 , SB62 , SB151 , SB152 | UNS No. C 70600 (Cu-Ni 90/10), C 71500 (Cu-Ni 70/30), UNS No. C 10100, 10200, 10300, 10800, 12000, 12200, |